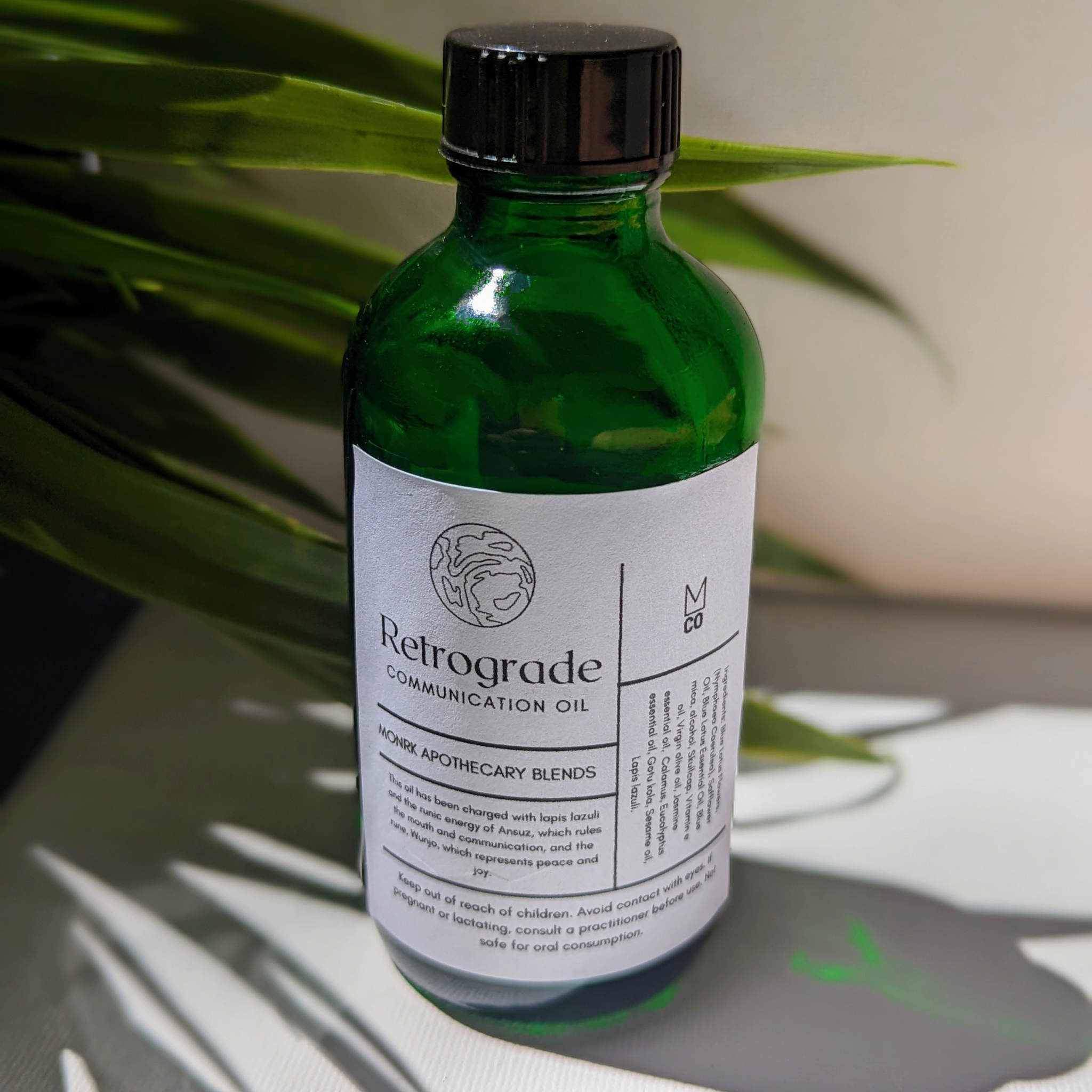 Mercury Rx Rescue Oil with Lapis Lazuli
 Mercury Rx is a time of self-reflection. Mercury asks us to dive deep within ourselves to uncover our authentic truth. As Mercury rules communication, its retrograde is typically regarded as a chaotic time for anything that relates to communication. This sweet, calming, flower-infused oil was intended to help you brave the storms that come before you during this time.  
Recommended Uses Include:
to anoint candles in spellwork.
 as a massage oil to help foster intimacy and honest communication between partners. 
 as a body oil 
in chakra healing (throat, heart, and third-eye chakras. )
diffused for aromatherapy
This oil has been charged with lapis lazuli and the runic energy of Ansuz, which rules the mouth and communication, and the rune, Wunjo, which represents peace and joy. 
Key Ingredients:
Blue Lotus is the ancestral flower of Egyptian Magick. Often used as a potent elixir in spiritual ceremonies, blue lotus also has poetic relations in sex magick. When used properly, it has the power to evoke powerful, almost cataclysmic-type orgasms and spiritual awakenings similar, if not more substantial than traditional ayahuasca. Aside from its metaphysical uses, the blue lotus is known to soothe and relax the body, helping to release stress and tension from the physical and mental body.
Safflower is comprised of a high concentration of Linoleic acid, an omega-6 fatty acid that is found naturally on the skin.
Lapis Lazuli will help you discover your authentic self when you connect with its deep well of wisdom. By boosting your intuition and expanding your mental awareness, the Lapis Lazuli crystal meaning shows you how to access the knowledge and power you have within you. 
Blue (Color Therapy) allows us to look beyond and increase our perceptions and is a conceptual color that urges us to seek and speak our inner truths. It is ruled by the planet mercury and aids communication-wise, practical, and loving ways. In short, knowing when to speak, when to listen, and when to walk away is helpful, especially now.
Green (Color Therapy) is the color of nature and stability. It is grounding and healing at the same time.  Using green in the logo and bottle is intended to help stabilize and ground the energy of mercury itself.
Jasmine has a calming sedative effect on the nervous system when used as aromatherapy. It also carries the spiritual energy of love and sensuality. 
FrangiPangi fosters openness in others.
Full list of Organic Ingredients: Safflower oil, blue lotus, blue mica, alcohol, skullcap, vitamin e oil, virgin olive oil, jasmine essential oil, blue lotus essential oil, calamus, eucalyptus essential oil, gotu kola, sesame oil, lapis lazuli.
HOW LONG DOES IT TAKE TO SHIP?
1-2 days, normally. However, If the item is on backorder, it may take up to 5 business days. If an item is on backorder, we will reach out to let you know. You will have the option to wait, choose another item or cancel the backordered item. 
HOW TO MAKE A RETURN
1. Submit your return request in the account portal. If you don't have one, create one here.
2. A member of our team review your request and approve or deny your request based on our return policy.
3. Please be sure to include your name, email address, and phone number so that we can contact you, if necessary.
4. A Return label will be emailed to you upon receipt of the request. The cost of the return shipping will automatically be deducted from your refund.
5. Repack and ship your items in the manufacturers and/or Monrk Co. packaging, if available. Otherwise, pack your items in a well-padded envelope or box to prevent damage in transit. 
6. Please note that you are responsible for proper shipping and the safe return of merchandise.
7. Refunds are processed within 2-5 days of receipt. You will receive a confirmation email once your items have been received and your return has been processed.
8. Once you've received confirmation of returned payment please allow 3-5 business days for your bank statement to reflect the credit.
PLEASE KEEP IN MIND: 
We don't accept returns for:

Custom or personalized orders
Perishable products (like food or flowers)
Digital downloads
Intimate items (for health/hygiene reasons)
Empty bottles or containers

HOW MANY SERVINGS DOES 1oz MAKE?
Typically, one ounce will make 10-15 6-ounce cups of tea, depending on how strong you like it.
The volume of an ounce of dry tea leaves can vary quite a bit, though. Some teas are light and fluffy, while others are dense
DO YOU SELL ORGANIC HERBS?
Yes, all of our herbs are certified organic
HOW LONG DOES IT TAKE TO SHIP?
1-2 days, normally. However, If the item is on backorder, it may take up to 5 business days. If an item is on backorder, we will reach out to let you know. You will have the option to wait or cancel your item. 
CAN I MAKE RETURNS IF I DON'T LIKE SOMETHING?
We gladly accept returns and exchanges but the following items can't be returned or exchanged.
Because of the nature of these items, unless they arrive damaged or defective, I can't accept returns for:
-Custom or personalized orders
-Perishable products (like food or flowers)
-Digital downloads
-Intimate items (for health/hygiene reasons)
If your item falls outside of these parameters,
Contact us within: 14 days of delivery
Ship items back within: 30 days of delivery
Please note:
Buyers are responsible for return shipping costs. If the item is not returned in its original condition, the buyer is responsible for any loss in value.
*see full return policy here
HOW DO YOU SOURCE YOUR HERBS?
We source our herbs from certified herb vendors, farmers and local apothecaries.
HOW MUCH CAFFEINE IS IN TEA?
Tea contains, roughly, 40 mg caffeine per 6 oz. cup, compared to brewed coffee at 100-150 mg.
Herbs + Food Based Products
The products and claims made about specific products throughout Monrk.Co have not been evaluated by the Food and Drug Administration. These products are not intended to diagnose, treat, cure, or prevent any disease."
We always strive to provide useful and accurate information, however, you are responsible for researching and verifying any information found on Monrk.Co.  We are not licensed or registered healthcare practitioners or medical doctors.
Please consult your doctor before using herbal medicine, particularly if you have a known medical condition or if you are pregnant or nursing. You are responsible for your own health. As with conventional medicine, herbal medicine is vast and complex, and must be used responsibly.
Magic(k), Divination and Curio Tools:
We are sincere magickal practitioners and fully believe in the power of natural and magickal energies.  However, due to laws in place, products and insights are offered as "curios only" and we cannot guarantee any magical or supernatural properties. Any "magickal" products are sold for entertainment purposes ONLY.
Share