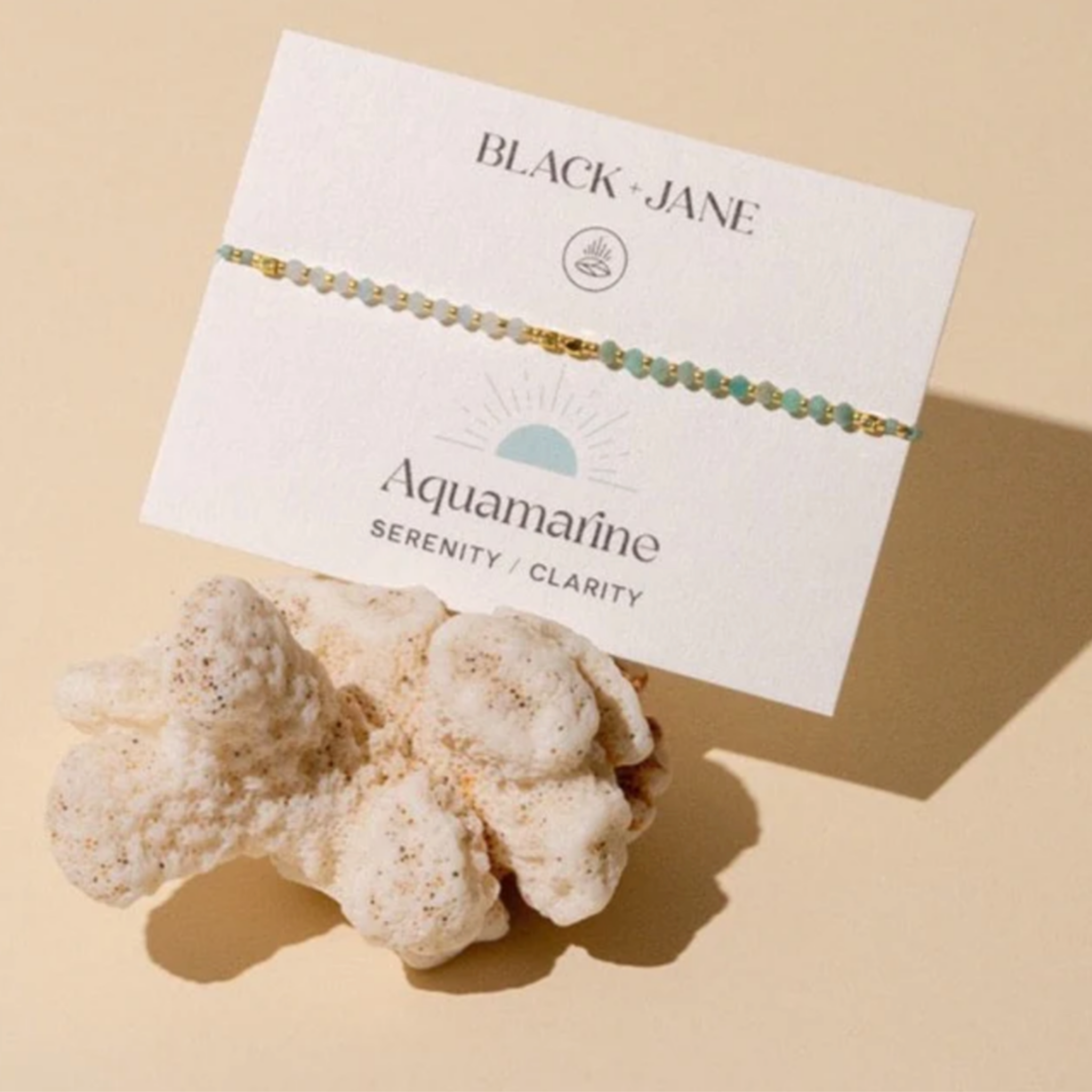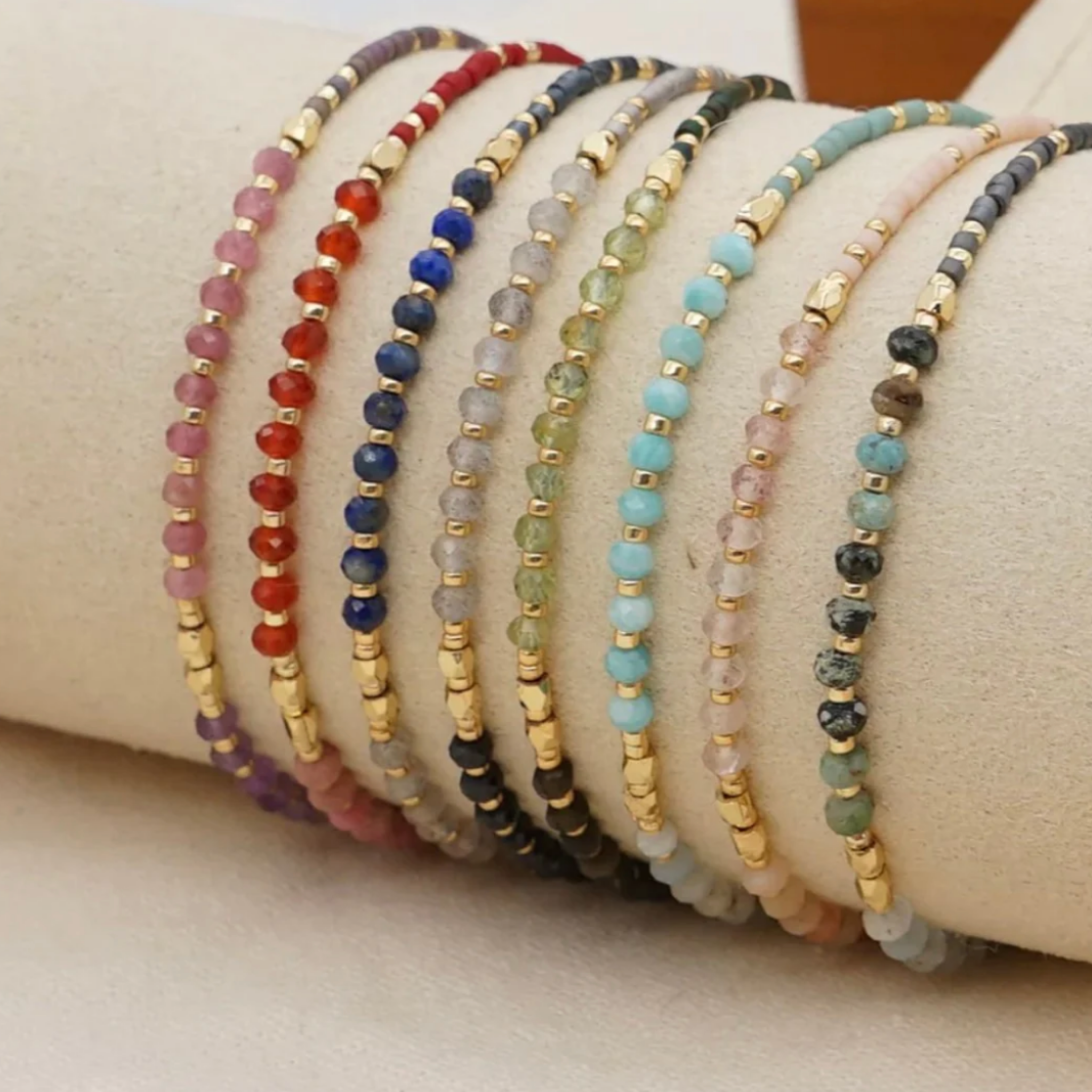 Aquamarine Bracelet: A Natural Stone That Promotes Peace, Balance, and Tranquility
This petite aquamarine bracelet is the perfect way to promote peace and clarity in your life. The calming blue color of the aquamarine is said to soothe the mind and body, while its metaphysical properties are said to promote courage, communication, and self-expression.
The bracelet is made with high-quality aquamarine beads that are strung on a stretchy cord for a comfortable fit. It  adjusts to a variety of sizes to fit any wrist.
This bracelet is the perfect gift for yourself or someone special. It is a beautiful and meaningful way to show your loved ones that you care.
Product Information:
Material: Aquamarine
Size: Adjustable
Color: Blue
Closure: adjustable cord
Benefits:
Promotes peace and clarity
Soothes the mind and body
Encourages courage, communication, and self-expression
Beautiful and meaningful gift
Spiritual Properties of Aquamarine:
Aquamarine is a stone of courage, truth, and communication. It is said to help calm anxiety and stress, and to promote clear thinking and communication.
Aquamarine is also associated with the throat chakra, which is the energy center of communication and self-expression.
Wearing aquamarine can help you to express yourself more clearly and honestly, and to communicate your needs and desires with confidence.
How to Care for Your Aquamarine Bracelet:
To keep your aquamarine bracelet looking its best, avoid wearing it in water or while doing activities that could cause it to get scratched or damaged.
If your bracelet does get dirty, you can clean it with a soft cloth and a mild soapy solution.
Store your bracelet in a jewelry box or pouch when you are not wearing it.
HOW LONG DOES IT TAKE TO SHIP?
1-2 days, normally. However, If the item is on backorder, it may take up to 5 business days. If an item is on backorder, we will reach out to let you know. You will have the option to wait, choose another item or cancel the backordered item. 
HOW TO MAKE A RETURN
1. Submit your return request in the account portal. If you don't have one, create one here.
2. A member of our team review your request and approve or deny your request based on our return policy.
3. Please be sure to include your name, email address, and phone number so that we can contact you, if necessary.
4. A Return label will be emailed to you upon receipt of the request. The cost of the return shipping will automatically be deducted from your refund.
5. Repack and ship your items in the manufacturers' packaging and Monrk Co. packaging, if available. Otherwise, pack your items in a well-padded envelope or box to prevent damage in transit. 
6. Please note that you are responsible for proper shipping and the safe return of merchandise.
7. Refunds are processed within 2-5 days of receipt. You will receive a confirmation email once your items have been received and your return has been processed.
8. Once you've received confirmation of returned payment please allow 3-5 business days for your bank statement to reflect the credit.
PLEASE KEEP IN MIND: 
We don't accept returns for:

Custom or personalized orders
Perishable products (like food or flowers)
Digital downloads
Intimate items (for health/hygiene reasons)
Empty bottles or containers

HOW MANY SERVINGS DOES 1oz MAKE?
Typically, one ounce will make 10-15 6-ounce cups of tea, depending on how strong you like it.
The volume of an ounce of dry tea leaves can vary quite a bit, though. Some teas are light and fluffy, while others are dense
DO YOU SELL ORGANIC HERBS?
Yes, all of our herbs are certified organic
HOW LONG DOES IT TAKE TO SHIP?
1-2 days, normally. However, If the item is on backorder, it may take up to 5 business days. If an item is on backorder, we will reach out to let you know. You will have the option to wait or cancel your item. 
CAN I MAKE RETURNS IF I DON'T LIKE SOMETHING?
We gladly accept returns and exchanges but the following items can't be returned or exchanged.
Because of the nature of these items, unless they arrive damaged or defective, I can't accept returns for:
-Custom or personalized orders
-Perishable products (like food or flowers)
-Digital downloads
-Intimate items (for health/hygiene reasons)
If your item falls outside of these parameters,
Contact us within: 14 days of delivery
Ship items back within: 30 days of delivery
Please note:
Buyers are responsible for return shipping costs. If the item is not returned in its original condition, the buyer is responsible for any loss in value.
*see full return policy here
HOW DO YOU SOURCE YOUR HERBS?
We source our herbs from certified herb vendors, farmers and local apothecaries.
HOW MUCH CAFFEINE IS IN TEA?
Tea contains, roughly, 40 mg caffeine per 6 oz. cup, compared to brewed coffee at 100-150 mg.
Herbs + Food Based Products
The products and claims made about specific products throughout Monrk.Co have not been evaluated by the Food and Drug Administration. These products are not intended to diagnose, treat, cure, or prevent any disease."
We always strive to provide useful and accurate information, however, you are responsible for researching and verifying any information found on Monrk.Co.  We are not licensed or registered healthcare practitioners or medical doctors.
Please consult your doctor before using herbal medicine, particularly if you have a known medical condition or if you are pregnant or nursing. You are responsible for your own health. As with conventional medicine, herbal medicine is vast and complex, and must be used responsibly.
Magic(k), Divination and Curio Tools:
We are sincere magickal practitioners and fully believe in the power of natural and magickal energies.  However, due to laws in place, products and insights are offered as "curios only" and we cannot guarantee any magical or supernatural properties. Any "magickal" products are sold for entertainment purposes ONLY.
Share