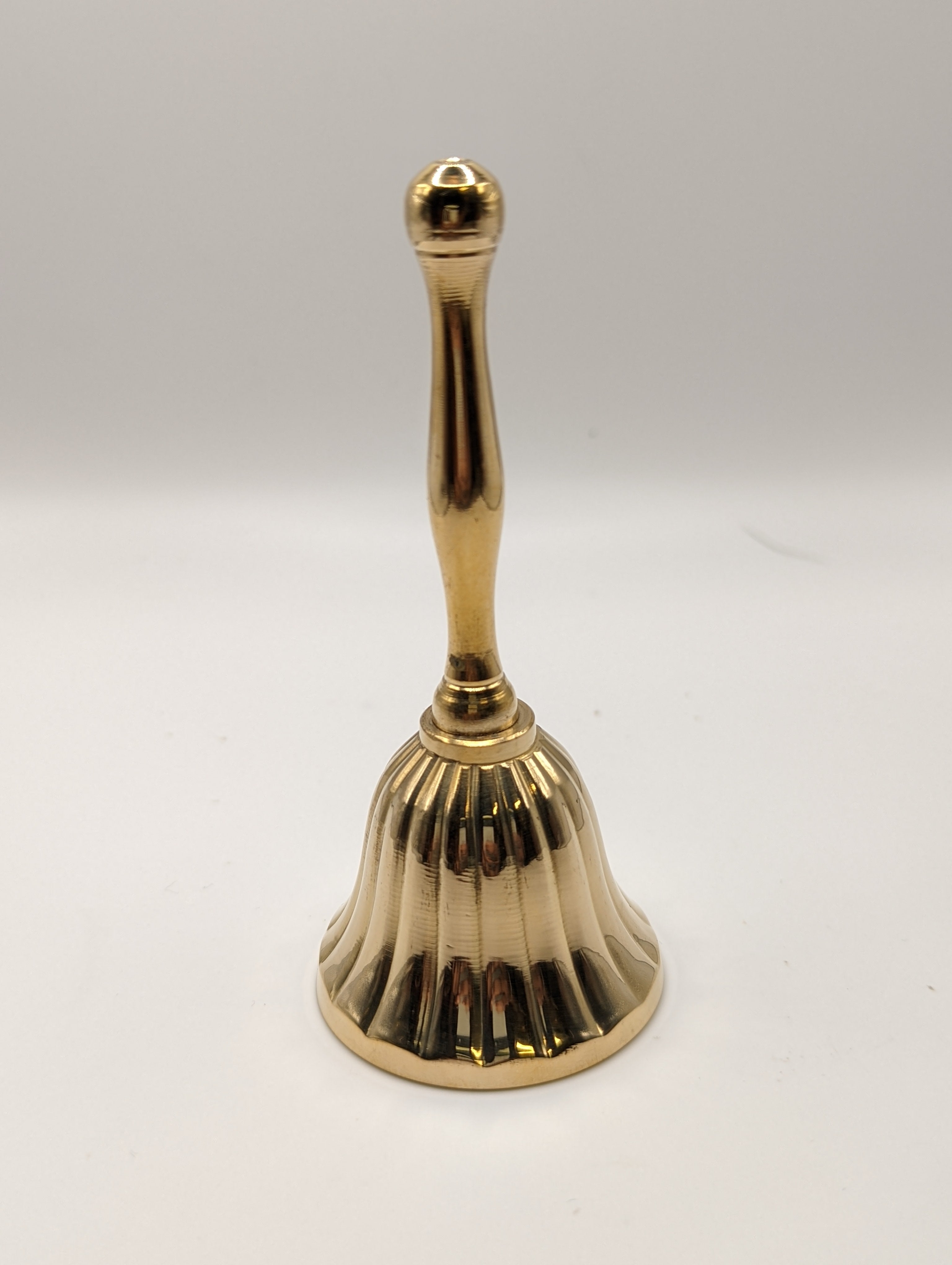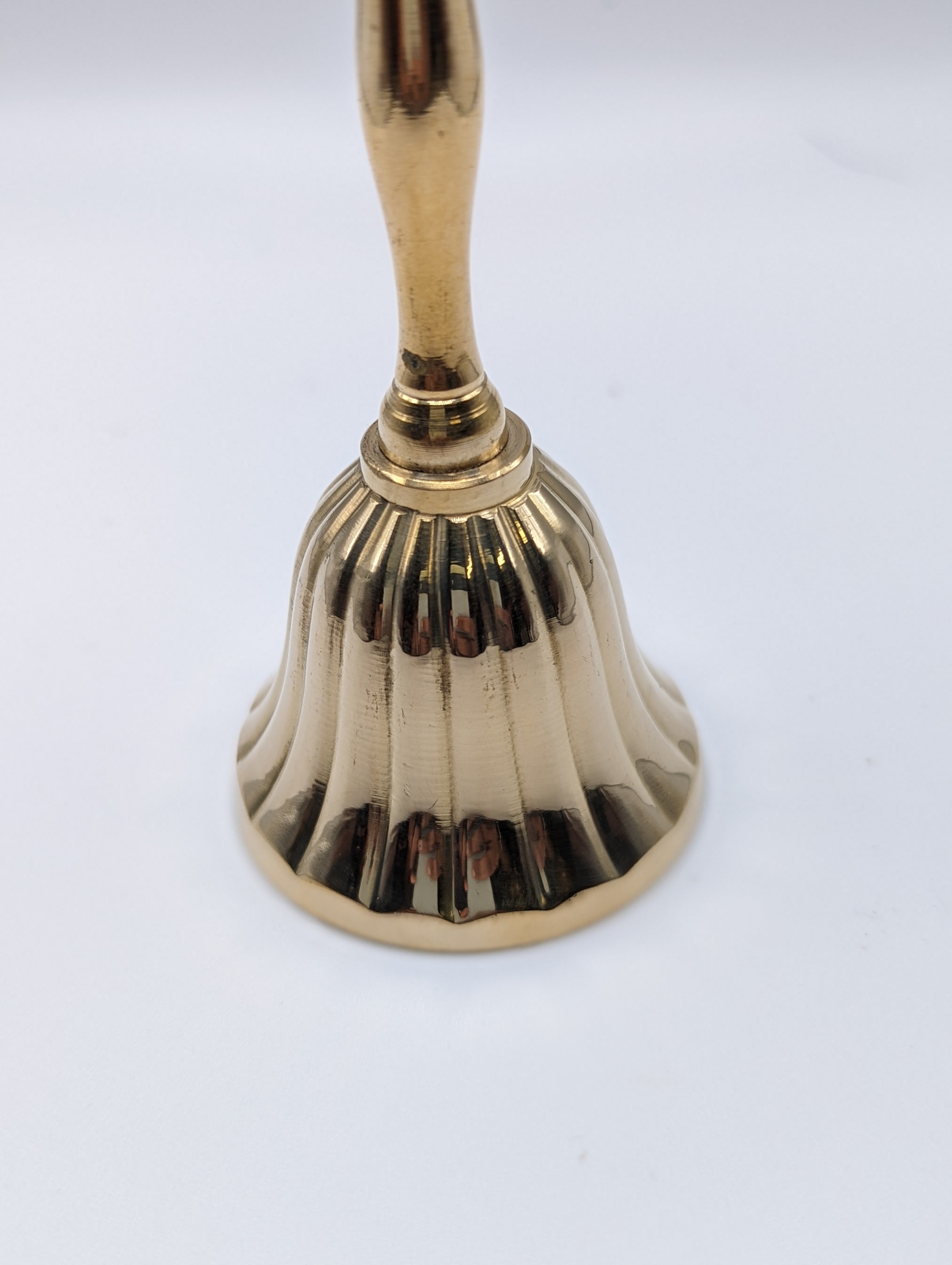 4" Scalloped Brass Alter Bell
The intention of altar bells is to call attention to the gods or goddesses you are praying to.
With altar bells, they are meant to "vibrate" or to "attune" you to the gods or goddesses so that they can hear you in your prayers and ritual work.
Everyone has a preference when it comes to using their tools, but this example is a basic way to use an altar bell properly in your rituals.
Approach your altar and either sit cross-legged in front of it or kneel before the altar. Close your eyes and begin your meditation, a short duration meditation to begin is ideal, just to get your energy flowing.
Next, open your eyes and take your altar bell and ring it gently once while saying a phrase such as "May the gods and goddess hear me." or "Such and such god or goddess lend me your strength." These are just examples, you can say anything you like that makes you feel comfortable.
Next, place the bell back on your altar and meditate once again, focus your energies on reaching out to your respected god/goddess, and really try to FEEL like you are becoming one with your own energy.
Once you feel you are making progress, open your eyes once again take your altar bell and ring it once again with another phrase or "words of empowerment" such as "Please protect me during this ritual." or something similar.
Place the altar bell back on the altar and repeat this once again with meditating and then taking the altar bell and giving it one final ring with a phrase.
Performing this three times better ensures that your respected god/goddess will hear you and will be able to empower you for whatever ritual you may be wanting to perform.
Every so often it is also good to cleanse your altar bells and this can be quite simple. Since most altar bells are silver plated or made from brass, dipping them into water with some sea salt or salt in general for a few moments will cleanse your altar bell fairly well. Simply place it in a bucket with salt water for roughly 20 seconds and then remove and dry.
Another cleansing technique is to light a sage smudge stick and have the smoke go over the altar bell for several moments.
You may cleanse many different altar tools in this fashion as well.
-via moons light magic
HOW LONG DOES IT TAKE TO SHIP?
1-2 days, normally. However, If the item is on backorder, it may take up to 5 business days. If an item is on backorder, we will reach out to let you know. You will have the option to wait, choose another item or cancel the backordered item. 
HOW TO MAKE A RETURN
1. Submit your return request in the account portal. If you don't have one, create one here.
2. A member of our team review your request and approve or deny your request based on our return policy.
3. Please be sure to include your name, email address, and phone number so that we can contact you, if necessary.
4. A Return label will be emailed to you upon receipt of the request. The cost of the return shipping will automatically be deducted from your refund.
5. Repack and ship your items in the manufacturers' packaging and Monrk Co. packaging, if available. Otherwise, pack your items in a well-padded envelope or box to prevent damage in transit. 
6. Please note that you are responsible for proper shipping and the safe return of merchandise.
7. Refunds are processed within 2-5 days of receipt. You will receive a confirmation email once your items have been received and your return has been processed.
8. Once you've received confirmation of returned payment please allow 3-5 business days for your bank statement to reflect the credit.
PLEASE KEEP IN MIND: 
We don't accept returns for:

Custom or personalized orders
Perishable products (like food or flowers)
Digital downloads
Intimate items (for health/hygiene reasons)
Empty bottles or containers

HOW MANY SERVINGS DOES 1oz MAKE?
Typically, one ounce will make 10-15 6-ounce cups of tea, depending on how strong you like it.
The volume of an ounce of dry tea leaves can vary quite a bit, though. Some teas are light and fluffy, while others are dense
DO YOU SELL ORGANIC HERBS?
Yes, all of our herbs are certified organic
HOW LONG DOES IT TAKE TO SHIP?
1-2 days, normally. However, If the item is on backorder, it may take up to 5 business days. If an item is on backorder, we will reach out to let you know. You will have the option to wait or cancel your item. 
CAN I MAKE RETURNS IF I DON'T LIKE SOMETHING?
We gladly accept returns and exchanges but the following items can't be returned or exchanged.
Because of the nature of these items, unless they arrive damaged or defective, I can't accept returns for:
-Custom or personalized orders
-Perishable products (like food or flowers)
-Digital downloads
-Intimate items (for health/hygiene reasons)
If your item falls outside of these parameters,
Contact us within: 14 days of delivery
Ship items back within: 30 days of delivery
Please note:
Buyers are responsible for return shipping costs. If the item is not returned in its original condition, the buyer is responsible for any loss in value.
*see full return policy here
HOW DO YOU SOURCE YOUR HERBS?
We source our herbs from certified herb vendors, farmers and local apothecaries.
HOW MUCH CAFFEINE IS IN TEA?
Tea contains, roughly, 40 mg caffeine per 6 oz. cup, compared to brewed coffee at 100-150 mg.
Herbs + Food Based Products
The products and claims made about specific products throughout Monrk.Co have not been evaluated by the Food and Drug Administration. These products are not intended to diagnose, treat, cure, or prevent any disease."
We always strive to provide useful and accurate information, however, you are responsible for researching and verifying any information found on Monrk.Co.  We are not licensed or registered healthcare practitioners or medical doctors.
Please consult your doctor before using herbal medicine, particularly if you have a known medical condition or if you are pregnant or nursing. You are responsible for your own health. As with conventional medicine, herbal medicine is vast and complex, and must be used responsibly.
Magic(k), Divination and Curio Tools:
We are sincere magickal practitioners and fully believe in the power of natural and magickal energies.  However, due to laws in place, products and insights are offered as "curios only" and we cannot guarantee any magical or supernatural properties. Any "magickal" products are sold for entertainment purposes ONLY.
Share